Advantages of Certifying a Propeller
By Janett Hernández, Degree in Information Technology
Certification agencies are governed by the compliance of specific sets of standards; due to this, manufacturers should meet said requirements, and ensure that the product is in compliance with the established standards. Hence, the concept of a certified product: one that has been proven to meet certain quality standards set by a norm. Specifically for marine propellers, the certification process consists of:
Drawing/Design Certification
Manufacturing material verification

Spectrophotometric analysis
Destructive testing for tension, compression and elongation

Testing blade geometry

Pitch
Blade width
Blade thickness
Hub dimensions
Taper bluing process
Non-destructive test (Dye check)
The certification process must validate compliance of these criteria with the International Standard ISO 484, which consists of the following parts: propellers with a diameter greater than 2.5m (ISO 484/1) and propellers with a diameter between 0.8m and 2.5m, inclusive. Said standard applies to accuracy levels in manufacturing, and each has its own tolerance points for each of the required dimensions, for the manufacture of propellers.
The ISO 484 Accuracy levels:
For example, note the pitch tolerances in the following table: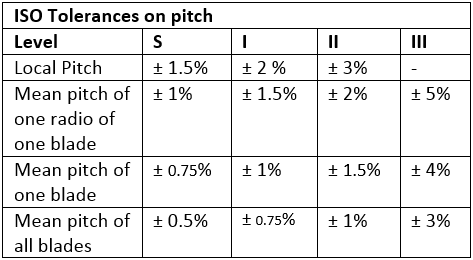 While anyone who manufactures a marine propeller should be governed by the ISO 484 standard and ensure that its product is compliant, firstly, for the customer's safety and secondly, for maintaining their brand's quality and prestige, this compliance on its own does not automatically certify the propeller; a Certification Agency has to issue a document stating that compliance with the standard has been determined, as well as full compliance with a set of rules set by the Certifying Institution itself. When a propeller is certified, the client receives the guarantee of an International Standard, as assessed by an agent foreign to the manufacturer, as well as a product which complies with all the requirements established by the client.
It is important to note that our propellers easily pass the certification process because they are manufactured under strict quality standards. Furthermore, Rice Propellers is certified by the norm ISO 9001: 2008 for the design and manufacture of marine propellers, and has been issued the ABS certificate for our foundry facility and process approval, which certifies us as capable of manufacturing bronze casting components for marine applications. This allows Rice propellers to be certified by international institutions such as ABS, DNV -GL, Bureau Veritas, Lloyd's Register, CCS, Rina and Class NK.